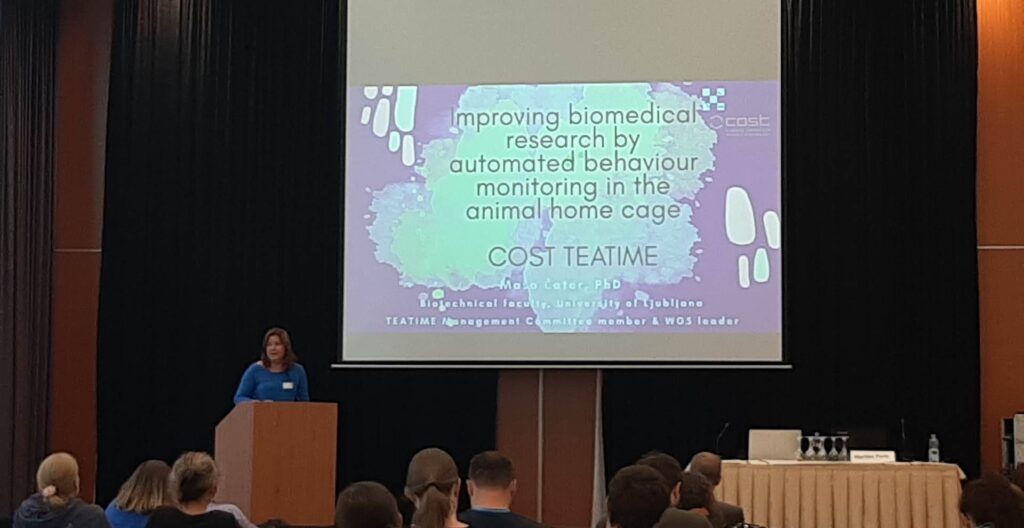 I was privileged to present the groundbreaking TEATIME Action at the 5th Congress of the Society for Laboratory Animals of Slovenia and the 3rd joint SLAS – CroLASA meeting on June 15, 2023, in Ljubljana, Slovenia. My lecture focused on the transformative potential of automated behavior monitoring in the home cages of laboratory animals, particularly mice and rats, aiming to elevate the standards of biomedical research.
TEATIME Action, launched in 2021 and spanning 34 European countries, unites experts in mouse behavior, data science, and animal welfare. Focused on home cage monitoring (HCM) technologies, it aims to enhance the reliability of measures in laboratory rodents, setting standards for ethical preclinical research. TEATIME fosters collaboration through surveys and a systematic review, providing a catalog of HCM systems and offering training programs. This initiative not only refines experimental conditions and reduces animal use but also builds a diverse, interconnected network for a more ethical and efficient future in biomedical research. The abstract of the lecture can be found in the Book of Abstracts (1 (slas.si)).
As the topic unfolded, I was delighted to witness the audience's curiosity ignite. The flood of questions that followed indicated a genuine interest in the subject. What thrilled me even more was the realization that the information shared was breaking new ground for many researchers. Some attendees were encountering the fascinating realm of Home Cage Monitoring (HCM) systems for the first time. The allure of our shared mission—improving research using laboratory animals—resonated with fellow researchers. Many expressed not only their desire to learn more but also their interest in joining our Action. It's the kind of collaborative spirit that propels our collective pursuit of knowledge forward. The exchange of ideas and the prospect of forging new connections left me inspired and excited about the collective journey ahead.
dr. Maša Čater
Biotechnical faculty
University of Ljubljana
Slovenia